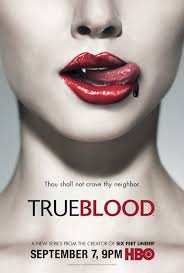 I have been a bit behind on this. I know you guys are champing at the bit to find out who i think is the biggest sucker from the most recent episode of True Blood. And now two episodes have gone by that I haven't commented on, so I am going to do this quickly. Who is Episode 2's Biggest Sucker:
Is it Luke, Jason
Stackhouse's
All-American football bunk mate who he meets on a bus and thinks that following the Light of Day Institute is more worthwhile than being a professional football player (something he could never be anyway because injuries ended the pursuit)? or that he thinks he is actually going to beat out our golden boy Jason for the favor of the church leaders? Nope
Is it Eggs, Tara's impending boyfriend who doesn't grow the least bit suspicious of Maryann and her weird ways despite being at the house for longer than Tara, ad despite the fact that Tara is already growing hip to the oddities? Nah
Is it Sam
Merlotte
who hires Daphne, the most incompetent waitress ever and sticks with her although the introduction of someone new in this small town almost always spells trouble? hardly.
Is it Lafayette who thought that he could escape the vampires den by trying to seduce a piece of white trash into letting him out and then selling his
soul
to Eric and Pam with the offer of turning him into a vampire instead of killing him? close, but not quite.
It's
Sookie
, who just a week earlier was able to glamor a vampire herself, Jessica, but allowed that same vampire to convince her that it was a good idea to drive her to her parent's house even though it is strictly forbidden by the vampire code, and knew full well Bill would have a
conniption
fit over it. For this she was the biggest sucker.
On another note, can any of my readers who watch this show, or anybody from the show who works on the script who is clearly an avid reader of my blog, tell me why can't the vampires stay awake during the day, but just black-out their windows? There hasn't been any explanation for this. They have only made clear that the sun will hurt them, but not that "staying up late" would. If anyone knows the answer to this, please let me know.